Judge Jin-Hyun Paik in the eyes of a volunteer
Release Time:
2018-07-29
Browse:
196
It was late in the night when I first met Judge Jin-Hyun Paik at the airport. Dressed in a decent suit, he walked straight to me with a warm smile on his face. Even after several hours of flight, Prof. Paik was still full of energy. It took us half an hour from airport to the hotel, and I guided the professor with the check-in procedure.
Prof. Paik has been Judge of the International Tribunal for the Law ofthe Sea (ITLOS) since 2009. Over the past three decades he has taught international law and the law of the sea in various universities and institutions around the world. My first impression on Prof. Paik is that he is very gentle and mild, and doesn't like to talk too much. As our communication deepens, I can feel his deep love for international law, as well as his preciseness not only in academy but in every aspect of life.
In the first class, Prof. Paik held up his copy of United Nations Convention on the Law of the Sea, and said "It is the Bible forstudying international law of sea, you all should have one." Then, he detailedly introduced the legislative history and background of UnitedNations Convention on the Law of the Sea, which few of us have the chance to learn before in our normal course of public international law.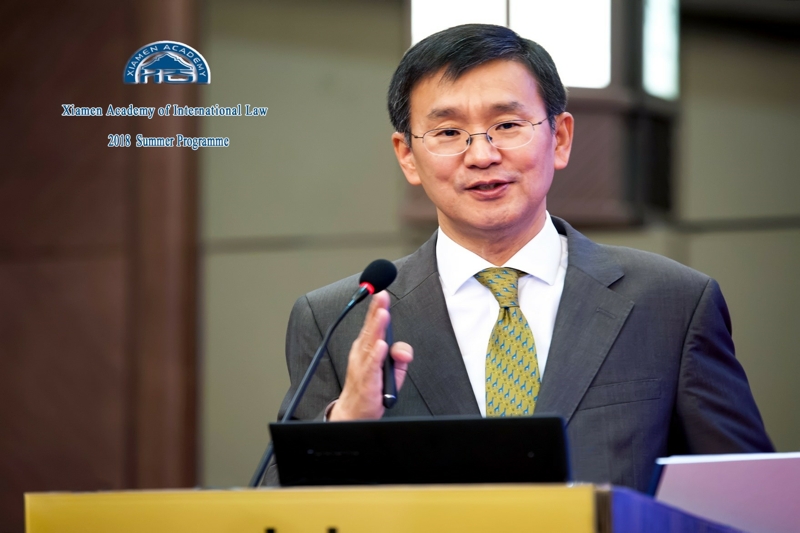 I took an opportunity and asked Prof. Paik how it feels to work in aninternational organization. He told me that it is very interesting because your colleagues come from all over the world. All the conversations between us make me feel that Prof. Paik sincerely respects different cultures and is always ready to learn new things. It is really a fortune for me to have an opportunity to closely communicate with a professor who has fruitful experience in workingin different countries.
Before I met Prof. Paik, I originally thought he might be a very serious professor since he has been working as Judge in International Tribunal for Law of Sea. But in fact, Prof.Paik is very humorous and easy-going, he always told jokes during the class and patiently answered students' questions. Prof. Paik's lectures comprised of several important issues in the regime of Exclusive Economic Zone. Although I am not very familiar this subject, Prof. Paik's interesting case analysis and sincere concern for the maritime environment inspires every participator in his lectures.
It was regretful that Prof. Paik couldn't make to attend the closing ceremony, and I didn't get the chance to further communicate with him. But the days serving as his assistant will be an everlasting treasure of my life.
Report by Du Tongxin,Photo by Zhong-Ding-Wen Studio