A volunteer's impression on Prof. Elisa Morgera
Release Time:
2018-07-24
Browse:
253
Prof. Elisa Morgera is Professor of Global Environmental Law at the University of Strathclyde Law School and Director of the Strathclyde Centre for Environmental Law and Governance. She specializes in international, EU and comparative environmental law, focusing on the interaction between international biodiversity law and human rights, particularly those of indigenous peoples and local communities, equity and sustainability in natural resource development, integrated ocean governance, and corporate environmental accountability. Prof. Morgera serves as a consultant for the Food and Agriculture of the UN (FAO), International Union for Conservation of Nature (IUCN), the Organization for Economic Cooperation and Development (OECD), the European Commission and the Secretariat of the Convention on Biological Diversity (CBD).
Prof. Morgera is the first one to arrive. We picked up her at five in the morning at airport. Despite of a tired journey, Prof.Morgera was very gentle and friendly. She seemed little affected by a long flight and gave an excellent speech in the following day's Opening Ceremony.

Prof. Morgera is very dedicated and has a great passion for work. In order to make sure that the students can receive knowledge comprehensively, she would revise her daily lecture slides according to the previous day's curriculum update. She spent almost all her time in preparingand delivering the lecture. It is quite often for her to review the course materials till late night before the day of class. Whether in class or after class, many students actively asked questions and participated in discussions. Prof. Morgera always answered these questions patiently and meticulously. Her enthusiasm for work and knowledge was impressive. In the last class, students took a group photo with Prof. Morgera.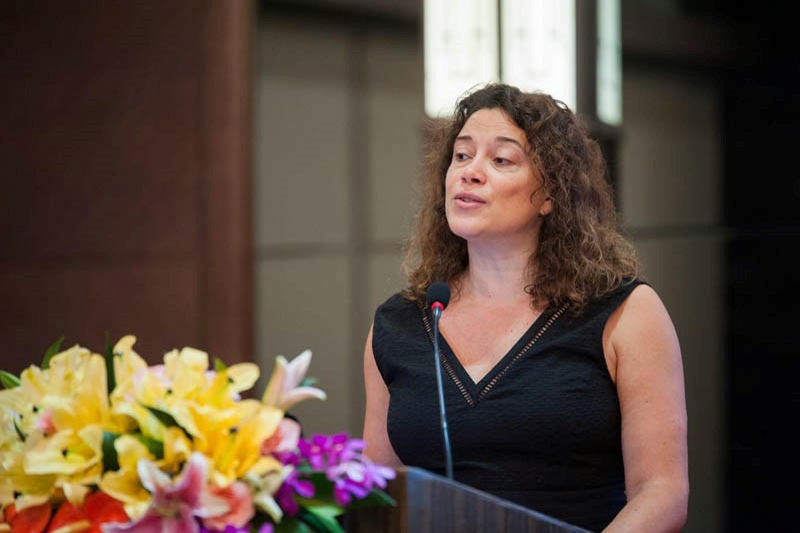 After finishing all her lectures, we accompanied Prof. Morgera to visit Gulangyu Island, which is an unforgettable journey. She told us that this was the first time she came to China and praised Xiamen for its beautiful scenery. She also mentioned her hometown as a pleasant place. Lovely cats on the Island attracted Prof. Morgera's eyes and she stopped to take pictures of them. She told us that she has a cat at home and she loved the relaxed and lazy nature of these cats, which is not bothered by tourist at all. The most interesting aspects to her were the exotic architectures on the Island. She stopped several times to photograph the distinctive scenery.
It's really a great honor for me to have a chance to accompany Prof. Elisa Morgera. Her great qualities and spirits would keep motivating me, and I will cherish this wonderful experience.
Reported by Qu Chang, Cheng Xueran,Photo by Zhong-Ding-Wen Studio