A volunteer's impression on Prof. Gian Luca Burci
Release Time:
2018-07-20
Browse:
247
Prof. Gian Luca Burci is an Adjunct Professor at the Graduate Institute of Geneva. His areas of expertise are public international law, the law of international organisations as well as global health governanceand law. Among other professional achievements, he was closely involved in the negotiation and implementation of the Framework Convention on Tobacco Control and its Protocol to Eliminate Illicit Trade in Tobacco Products, the revision and implementation of the International Health Regulations (2005), WHO's response to the 2014-2016 Ebola outbreak and WHO reform. It was my honor to be a volunteer for Prof. Burci this July.
On the first sight of Prof. Burci at the airport, I already felt that he was very friendly and polite. For some of my little help, he always expressed his sincere gratitude. What impressed me most was the independence and braveness of prof. Burci. On the first day of the summer program, Prof.Burci told me that he would like to visit Gulangyu Island on that Wednesday or Thursday. Unfortunately, due to the influence of Typhoon Maria, we could not make the trip. I told him this sad news and suggested that we would try on Saturday, after the typhoon passed. On Tuesday night, Prof. Burci surprised me by telling me that they had visited Gulangyu Island on the afternoon, just before typhoon coming. With the help of hotel staff, they got the Chinese name of the Pier to the island. They even managed to get the tickets by themselves and had a good tour around.
Prof. Burci's lecture was about 'infectious diseases and international law'. At first, I thought that, as an unpopular field, international health law might be hard to attract the interest of students. It turned out, however, that the classroom atmosphere was quite good, and the students actively interacted with Prof. Burci. We were all deeply attracted by him, by his lecture and by his way of lecturing as well. So even unpopular field could be popular among us students with the right means. Prof. Burci valued most on details, I knew he worked late in night to thoroughly go over his PPT slides for next day's class. After the last class, we all sincerely thanked Prof. Burci for his wonderful course with warm applause.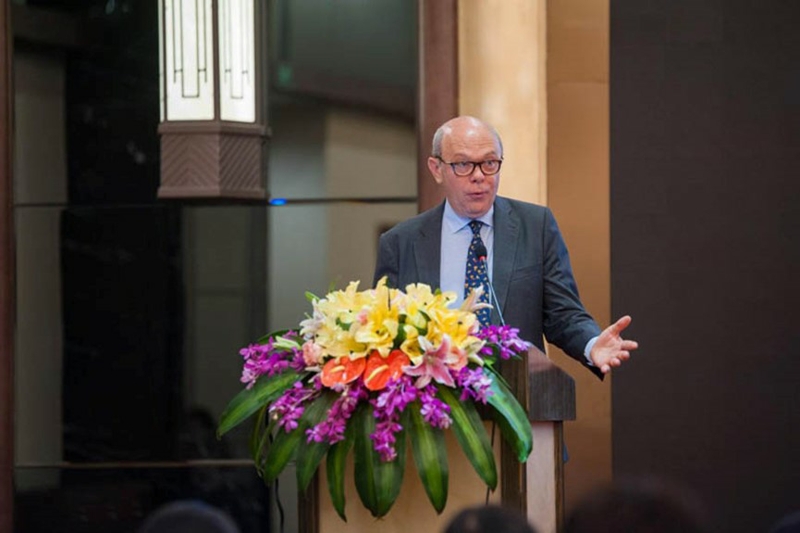 Time flies. Prof. Burci's trip in Xiamen came to its end at15th July. On the way to the airport, I told Prof. Burci that students liked him and his classes a lot, and wished that there would be a chance for him to come back to the Academy in the near future. Prof. Burci said that the scenery in Xiamen city is very beautiful, while the travel time of this week is too short. He'd very much like to come again, to visit all places that he didn't have time to go for this summer. I do think the week spent with Prof. Burci will serve as a good memory.
Reported by Wu Huihui, Photo by Zhong-Ding-Wen Studio