Prof. Patel in a Volunteer's Eyes
Release Time:
2016-07-16
Browse:
277
Professor Patel is a prominent scholar in Public International Law, Peaceful Settlement of International Disputes and Law of the Sea and Maritime Law. He enjoys a high international reputation and has accumulated more than 20 years of teaching and research experience in various areas of international law.
Before he arrived at the airport, I had taken a glimpse of the portrait photo on the Brochure of this year's Summer Program, and guessed that Prof. Patel would be a very serious scholar. When I first saw him in person in the arrival hall, his lovely iconic mustache enabled me to immediately recognize him. With smiles, Prof. Patel reached out his hands and shook with me, and humorously complained of the flight's being behind schedule. His relaxed tone quickly eased my tension.
Prof. Patel's lectures are mainly concerning Marine Environmental Protection and Law of the Sea. What makes his classes so special is that Prof. Patel doesn't feel like to use any PPT slides in his classroom, so that we have to listen attentively to his lectures. Prof. Patel has, however, a unique technique to explain profound theories in simple words. Taking the practice of China, India, Japan and South Korea in international marine protection law as examples, he introduced the legislation and practice of international marine environmental protection law and talked about the development orientation and its potential. His lectures are very logical and well structured, so we could quickly gain a general understanding of what he intends to discuss.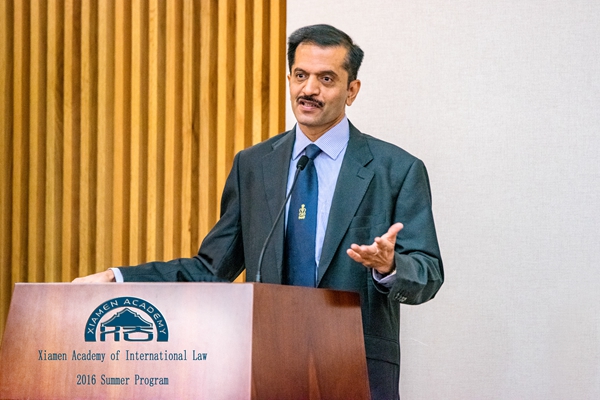 In most cases outside the lecturing hall, the professor is not very talkative, but when the students asked him some questions, he could always explain to them patiently with a warm smile. Because I'm not proficient in English, sometimes I couldn't understand him quickly, but he would patiently repeat to me.
On the Academy Party night on Wednesday (July 13), Prof. Patel sang an Indian song on the stage. Although I could not understand it at all, I felt that the exotic display just echoed the theme of our summer school of international law: it is not only an academic exchange, but also an event of cross-cultural dialogue.
"Xiamen is very hot, but is no hotter than India." Professor told me at his first night in Xiamen. A week of companionship quickly passed, I might forget the stuff told by our professor in future, but I will always remember the concerned look in his eyes when he talked about the growing marine pollution, as well as the slightly shy yet sincere smile on his face.
Report by Yuan Ye, Photo by Zhong-Ding-Wen Studio