Volunteer Notes on Prof. Marc Weller
Release Time:
2016-07-08
Browse:
358
[4th July] My dear partner Wang Yuxiao accompanied professor Cheng to pick professor Weller up at the airport, in the meantime, I stayed at the Science and Art Centre for the preparation. When I first met professor Weller, I can see the tired look from his face because of the extremely long cross-continental flight and the annoying delay. He still acted very nice and gentle though, to respond to my introduction. During the afternoon lecture, Prof. Weller said that he was looking forward to having more communication and discussion with the students.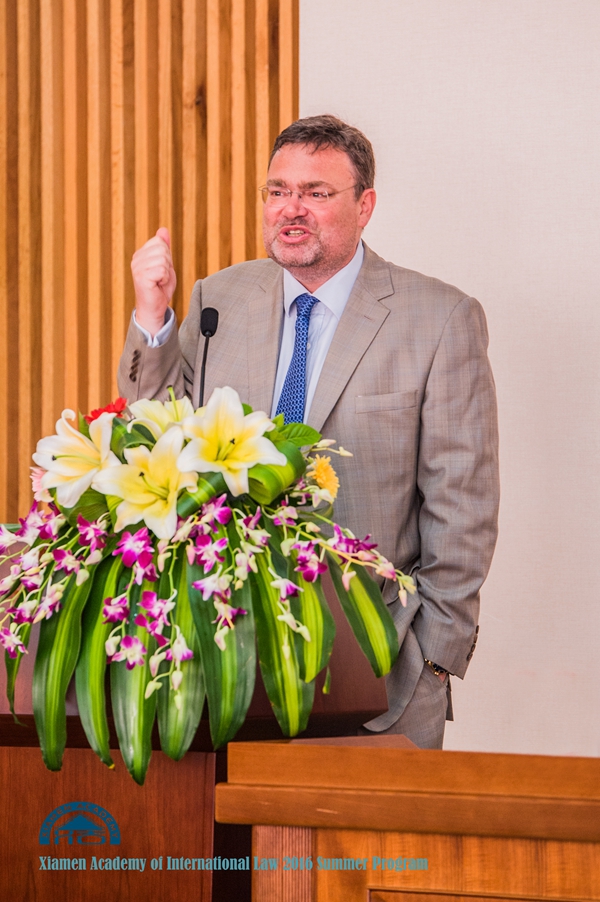 On the way back to hotel, he asked us how to say "hello" and "thanks" in Chinese, and he also mentioned the education about International Law in China. It was a pity that I could not give him a satisfying answer because of my poor knowledge. What surprised me was that professor's favourite food is Peking roast duck and when he arrived at the hotel, he could pronounce "Beijing KaoYa" in standard Mandarin.
[5th July] The driver, Mr. Yang and me picked up Prof. Weller at 8 a.m. He looked pretty refreshed. On the way to campus, Prof. Weller said Xiamen is a beautiful city and XMU also has a pretty campus. We saw some women dancing by the gate of the Science and Art Centre, Prof. Weller seemed very curious about them. I explained that "they are all retired women and doing exercise". He seemed quite interested.
The morning session was prolonged because of a fierce debate yet in a amicable atmosphere amongst the students. It was not until 13 o'clock before Prof. Weller could get back on seat at the hotel.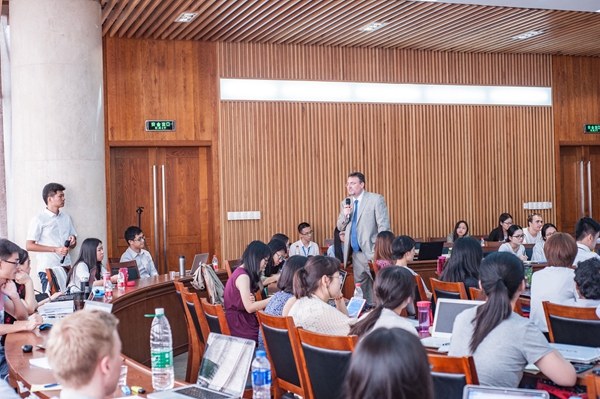 [6th July] We met earlier than 8 a.m. at the hall of the hotel, I thought he looked better than the day before. I told him about the coming typhoon expected to land in Friday evening, Prof. Weller said that he may worried about his flight. He also mentioned his favourite food Peking Roast Duck, the hotel provided him the Cantonese Duck but he likes them both. He asked me how the countryside in Xiamen looks like. I told him that I am not local but I think it maybe a little bit poorer than the centre of the city. We saw the same group of women dancing again, Prof. Weller took some photos for them. I assumed that the Chinese style of morning exercise may seem very interesting from an occidental's perspective.
[7th July] I was responsible for arranging the car when Prof. Weller ended his morning session. He asked me to remind him of bringing his passport for reimburse the fees. After a weeks of intense lectures, Prof. Weller still has to worry about his returning trip to Beijing because of the coming Typhoon. When one recalls the delay of Prof. Weller's trip to Xiamen, as well as the burning sun of the past days, it is fair to say that the weather is really not on his side. But I sincerely hope that the food, the dancing group of DaMa, and most importantly, the enthusiasm of our Summer Program participants, will leave Prof. Weller a good impression.
Report by LIN Yijia, Photo by Zhong-Ding-Wen Studio