Prof. Shinya Murase in the volunteer's eyes
Release Time:
2019-07-18
Browse:
113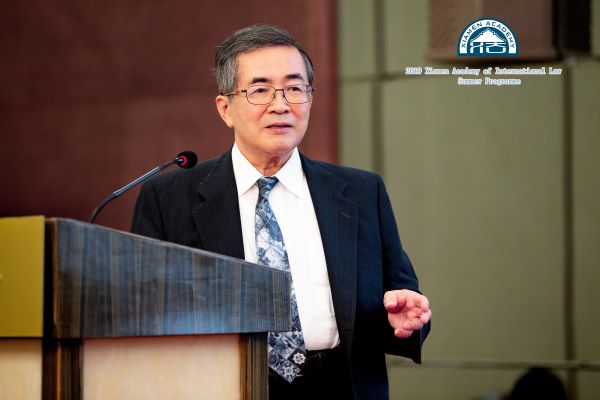 Mr. Shinya Murase, an outstanding professor from Sophia University in Tokyo, enjoys a high reputation in the academic circle of international law. Having obtained S.J.D. from the University of Tokyo in 1972, Prof. Murase also was visiting scholar/research fellow at Harvard Law School in 1974-76 and visiting professor at Columbia Law School in 1995.
His authority in the area of international law made me worry that Prof. Murase would be too serious to chat with. However, this first impression turns out to be absolutely wrong when we first met Prof. Murase in the airport. During the entire week, he was so gentle and always expressed his appreciation to our volunteering works. What's more, every time we did a favor for Prof. Murase such as sending materials to the students or collecting the questions from the fellows, he always said thank you to us with a sincere smile.
Furthermore, Prof. Murase speakes highly of Chinese law school students and always encourages us to read more and write more. Prof. Murase told us when he was a Judge in the Philip C. Jessup Moot Competition, he was really surprised about Chinese students' fabulous performance, not only in language but also the deep understanding of the legal issues as well as the logical framework they presented.
The topic Prof. Murase focused in the Summer School is about the international law of the atmosphere. He organized this topic in a logical method and showed the students the related cases in ICJ and ITLOS. Prof. Murase encouraged all the students to pay more attention on this issue and predicted that the codification of the atmosphere law would be a landmark in this century.
It is so unfortunate that Prof. Murase was not in good health this week in Xiamen. He coughed so severely that he even couldn't speak continuously in the last lesson. However, he still managed the class well with the help of his assistant. I sincerely wish Prof. Murase a speedy recovery and I will cherish this week very much.
Report by Huanchun Huang, Tingfeng Jin